Unified Relief Approach Leverages Partnerships
Hines Stands with Ukraine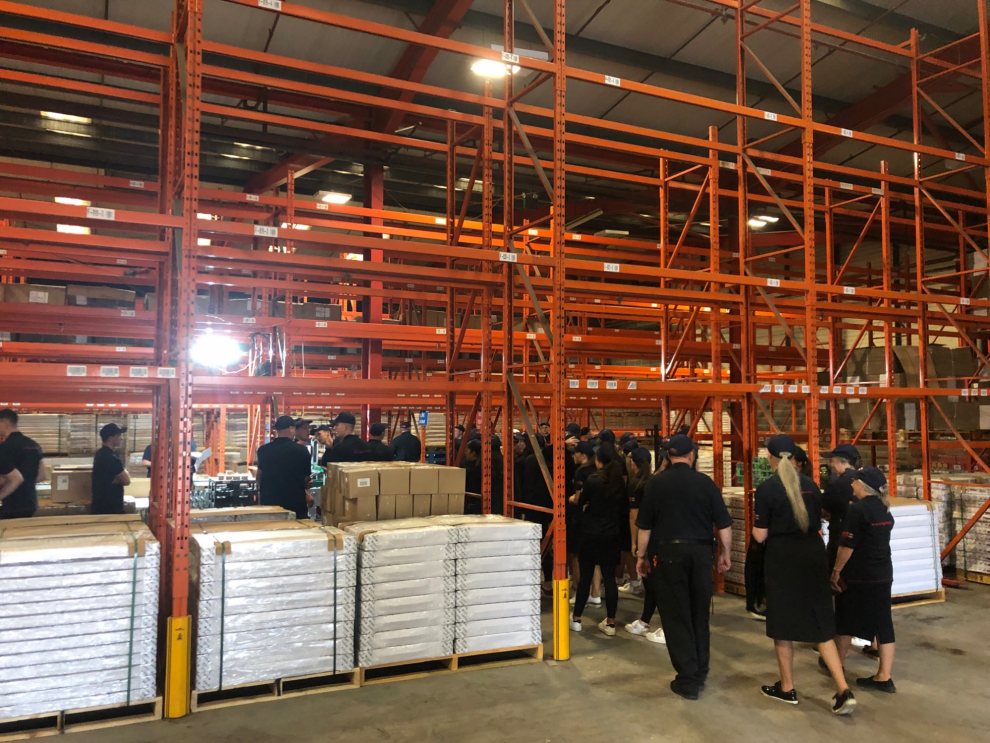 Our Hines community has come together across Europe globally, to support the ongoing crisis in Ukraine via numerous initiatives.
In support of the victims of this humanitarian tragedy, our Co-CEO's Jeff Hines and Laura Hines-Pierce announced a contribution of $250,000 to support the Ukrainian people on behalf of the Hines global workforce. In addition, they pledged another $250,000 to match employee donations dollar for dollar. To date, the firm has raised an amazing total of $540,791.22* for Ukrainian humanitarian efforts, which will be distributed to help Ukrainians rebuild their lives.
Following the formation of our Ukraine Task Force in March, our efforts continue to gather momentum across Europe. Our colleagues are connected in our spirit of aid and support in initiatives and kindness. Here are a few examples of all the individual and collective efforts being made on behalf of the Ukrainian people:
Donations
Multiple colleagues across Europe have provided accommodation for Ukrainian families in their own homes. France collected and donated food, toiletries and Ukrainian books for children. They also partnered with a Parisian church to welcome refugees twice a week. Hines Greece continues to provide clothes donations. Hines Germany provided financial relief to local organizations supporting the relief efforts for Ukraine. Hines Spain partnered with our tenant OnTime, paying for all €5.000 worth of traveling cost, to send a bus loaded with necessary goods to the Ukrainian border and return with 40 Ukrainian refugees. Fundraising initiatives, including members of the Hines team canoeing down the river Thames to raise money for the Sunflower Network, were organized.

Hines partnered with John Lewis, a renowned UK based department store, to deliver 100,000 of hygiene products and toiletries to support Ukrainians. The items were packed in the UK and delivered to Poland and then Ukraine, with support from our logistics partners RRT and Sunflower Network.
Watch the Video Here:
Utilizing our spaces
There was proactive use of our interim spaces across Europe to repurpose to help those in need of support and shelter. Hines Netherlands provided space at ABC Westland to temporarily house Ukrainian refugees. The Hines European Core Fund (HECF) had a £50k rebate on two logistics assets John Lewis occupy in London. In return, John Lewis matched this contribution totaling £100k. HECF also provided a starter pack of essentials for those seeking accommodation equivalent to €5k per annum per flat. Hines Poland helped support local initiatives, with the space hand-over of the Piaseczno warehouse to the Society of Ukrainian Friends, as a logistical hub to store and distribute products to refugees.
Job opportunities
A variety of teams across Europe are reaching out to Ukrainian communities to offer job/placement opportunities at Hines.
Hines Germany supported the city of Düsseldorf, which took care of the initial accommodation and support for refugees who arrive, and there were a number of six-month temporary positions open to secure Ukrainians with work.
Housing
Hines Denmark, in conjunction with HECF, provided two apartments at no cost to Ukrainian refugees.
This initiative emphasizes how a unified approach of leveraging our partnerships can provide aid directly to those in need.
Social Initiatives
Hines Germany organized a visit to the zoo in Berlin for Ukrainian children and organized donations, including laptops, to provide online education for children.



Our Partners:
John Lewis Partnership (JLP) is a UK based department store and the UK's largest employee-owned business and parent company of two renowned retail brands -John Lewis and Waitrose. JLP are a tenant of Hines and as such, we are able to utilize our partnership for this humanitarian initiative.
Rapid Relief Team (RRT) delivers hope and relief to people across the globe. Whether it be fire, flood or humanitarian need, RRT expands their support services to meet the need at hand. Comprised of thousands of volunteers, RRT serves people across the globe with teams in Australia, the United Kingdom, North and South America, the Caribbean, Canada, New Zealand and across Europe.
Sunflower Network's mission is to provide direct support to those in need at this pivotal moment in history by filling gaps in the emergency supply chain. To date, Sunflower Network has delivered over $1,000,000 in critical relief in the forms of four-by-four vehicles, ambulances, field medical supplies, hygiene products, and clothing. Their overarching vision is to redefine non-profit's by creating a model where individuals are empowered to get involved in a way that speaks to their unique skills, passions, and circumstances.